Fandoghi pistachio; finely chopped pistachios​
known as Fandoghi pistachio on account of its little and hazelnut-like appearance.
Pistachios, which many of us have known and adored, is the delightful tree nut. Pistachios were prevalent for millennia in the center East, where they develop. Nowadays, they have spread worldwide and are utilize kinds various of foods and dishes, from courses to treats like frozen yogurt altogether.
Pistachios are an incredible wellspring of solid fats, fiber, protein, cell reinforcements, and various supplements, including nutrient B6 and potassium. Fandoghi pistachio is a more modest fit as a fiddle and appearance contrasted and multiple sorts of pistachios.  It is more practical in cost and has the most considerable volume for send out.  Round pistachios are extraordinary in protein and dietary benefits.
Fandoghi pistachio is primarily delivered in Kerman territory and Sirjan and Rafsanjan provinces. However, this cultivar is likewise found in some inaccessible nation locales. Kerman pistachio's distinctive feature is mainly related to this province's geographical location and the distance and altitude from the sea level, which has made Kerman pistachio have a different taste from other kinds of pistachios and has a worldwide reputation.
This sort of Pistachio is the most affordable sort among all the pistachios. Its cost is lower than different kinds is a direct result of its shape and high creation volume notwithstanding low homegrown interest. In this way, Round Fandoghi Pistachio frames the more significant part of the pistachio trade from Iran.
The shade of the Round Pistachio shell usually is light cream. Likewise, it has the greenest part. Like this, the greenness of its position and the sensible cost is the motivation behind why makers generally use Fandoghi to create GPPK.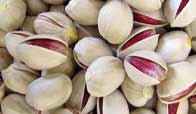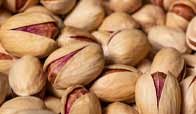 Fandoghi pistachio is the cheapest kind of pistachio. Its low price compared to different cultivars is its small shape and high production volume and export volume. For this reason, hazelnut pistachios account for the most significant amount of pistachio exports from Iran. The skin of the Fandoghi pistachio usually is light cream.
Great taste and cost-viability are the purposes behind the fame of hazelnut pistachios. The delicious nut, spherical and round shape of Fandoghi pistachio makes it suitable for decorating all kinds of pistachio sweets. The economics of hazelnut pistachios can be attributed to the fineness of their seeds. The small size of Fandoghi pistachio causes 1000 to 1100 pistachio seeds per kilogram, making it suitable for home nuts and your parties.
Properties of eating pistachios for health​
The medical advantages of pistachios include a solid heart, weight control, increased immunity to diabetes and high blood pressure, and improved digestion.
Pistachios contain nutrients: Pistachios contain dietary fiber and are a prosperous source of vitamin B6. Vitamin B6 plays an important role in regulating blood sugar and hemoglobin formation. Although a small number of pistachios contain 12 grams of fat, 90% of these fats are healthy fats.
Pistachios are exceptionally wealthy in cell reinforcements: Pistachios contain cancer prevention agents against malignant growth properties and forestall cardiovascular illness. Besides, pistachios also contain lutein and zeaxanthin, two carotenoids that help maintain eye health and overall safety.
Pistachios can help you get in shape: Rich in fiber and protein, pistachios are among the excellent best bites. These nuts can help you feel energetic for quite a while, which implies you, for the most part, don't have to indulge. Pistachios are rich in fiber: Examination shows that eating pistachios day by day improves your gut wellbeing since they help transport supplements through the gut and forestall obstruction.
Besides, their high fiber content means that they may help reduce the risk of colon cancer.
Pistachios are incredible for veggie lovers and vegans: with a protein of about 21% of the total weight of each grain, pistachios provide about 6% of a person's daily protein needs. For plant-based eating regimens, pistachios give the protein required.
Pistachios make you feel good: Pistachios contain thiamine, also known as an "anti-stress" vitamin. This means that consuming several pistachios will help you feel good in the face of stressful situations.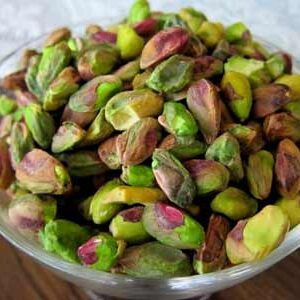 Properties of fandoghi pistachio consumption during pregnancy
Pistachio is exceptionally valuable for pregnant ladies during pregnancy because of its supplements and helps the hatchling grow.
Pistachios contain monounsaturated fatty acids that can increase the level of good cholesterol in the blood and reduce bad cholesterol. This can help maintain fat levels during pregnancy.
Pistachios are a rich wellspring of cell reinforcements, for example, polyphenolic compounds, nutrient E, and carotene, which support the body's safe framework during pregnancy.
Nutrients A and E in pistachios have cancer prevention agent properties that help kill potential disease issues during pregnancy.
Hazelnut pistachios are the best option for export
The Fandoghi pistachio export is with two types of pistachios: smiling water pistachio (artificially smiled) and natural smiling pistachio. But in countries that have tonnage-based markets (China, Russia, etc.) Smiling Fandoghi pistachio is mixed with smiling hazelnut water pistachio, which will naturally sell better.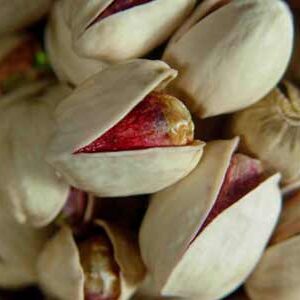 High nutritional value of pistachios per 100 grams
Pistachio is one of only a handful of nuts that contain most of the nutrients needed for perfect human health.
Fandoghi pistachio is one of the most nutritious fruits that, in addition to its pleasant taste, also contributes to your health and the freshness and freshness of your skin. The table below shows the nutritional value of each 100 grams of Fandoghi pistachio kernels.
So, in general, this kind of pistachio is beneficial for your health and can make your body healthier. You can buy pistachio easily from everywhere, and it's not that expensive.
Iran is one of the biggest producers of this kind of pistachio. This kind of pistachio is produced in Iran and has excellent quality. The taste of this pistachio is also amazingly delicious. You have to try it to find out.