The European Union:big buy Iranian pistachio VS Us pistachio
The European Union (28 countries) is the largest target for the export of tree nuts from the United States, with 32% of the total US produced in 2017,Also Its big in buy Iranian pistachio.
The share of East Asian countries was 27% in imports of tree nuts and 12% in the Middle East.
In 2017, the value of exports of nuts to the European Union reached $ 2.7 billion;
Almond (dry in shell and kernel) $ 1.5 billion, dry pistachios ($ 44.6 million) and walnuts worth $ 344 million.
Within the European Union, the most important destinations for American nuts are as follows: Spain, Germany and the Netherlands, accounting for 63% of total imports into Europe.
The United States is the largest supplier of tree nuts to Europe. In 2017, the share of the source in the European market was 37%.
Turkey has a second share of the European market (20%), followed by Vietnam, Chile, and India, and almond is still the main commodity, with a share of the total import of nuts to the European Union of 22%.
The main buyers of tree nuts: food processing and nuts industry
The nuts and food processing industries in Europe are the largest consumers of tree nuts in Europe; these industries use cookies in traditional cuisines as well as recycle and re-export them to third countries.
Almonds are used more as an ingredient in the production of marzipan, nougat, toron (spanish specialties for Christmas), other sweets and pastries. European growers use pistachios and walnuts for use in ice cream and confectionery.
The European Nutrition and Nutrition Industry is constantly striving to offer new products and methods for consuming more nuts.
However, it is not easy to introduce new products in traditional markets like Spain and Italy.
In these markets, consumers often prefer familiar food products.
Because of the large European marketplace, the focus of food retailers has been to develop strategies for the production of new value added products to sell more commodities in bulk.
They also try to showcase the nutritional value and benefits of tree fruit through new promotional campaigns and packaging
Expansion of trade in the EU market
Since the EU is the main destination for exporting tree beans, American exporters are always looking to expand their trade   with these countries.
Trade fairs are a golden opportunity to know about this market and meet potential importers. Some of the major trade fairs in Europe that deal with tree plants are:
Tree nuts fair in European union

Location
Dates
Fair Name
France, Paris
21-25 oct2018
SIAL
Germany, Berlin
6-8 Feb 2019
FRUIT LOGISTICA
Germany, Nuremberg
13-16 Feb 2019
BIOFACH
Germany, Cologne
5-9 Oct 2019
ANUGA
Germany, Frankfurt
27-29 Oct 2018
HEALTH INGREDIENTS
Switzerland ,Geneva 
17-19 May 2019
VITAFOODS
Spain, Barcelona
17-28 Jun 2019
SNACKEX
France, Paris
3-5 Dec 2019
FOOD INGREDIENTS
Spain, Barcelona
20-23 Apr 2020

ALIMENTARIA
To exporters who have recently entered the food business, it is recommended to refer to the FAIRS reports (including standards and regulations for the import of food and agriculture to the European Union) for more information on EU food regulations and familiarizing them with market opportunities.
American activists in the European Union
Associations such as the California Almond Alliance (ABC), The American Pistachio Association (APG) and the Cervical Cancer Commission (CWC) are always seeking to develop business strategies in the European Union market.
These business associations or industry activists, in collaboration with agricultural services offices throughout Europe, are always seeking to increase the market opportunities for tree vegetables.
Italy
Pistachios in Italy are a traditional product, especially in Sicily (Bronte Region), which supplies 90% of Italian pistachio.
In recent years, pistachio production has also expanded to some extent in other areas in Sicily and Basilicata.
 In these areas newer and more efficient gardens are built.
 Bianca (or Napoleon) is the main pistachio in Italy, which is usually harvested in September.
Since 2004, the European Commission has awarded the Brontot Pistachio with a PDO (protected designation of origin), distinguishing it from other varieties of pistachios in the world.
Spain
Spanish consumer interest in pistachios is on the rise, as well as pistachio production in Spain, which is undergoing rapid growth.
It is true that pistachios in Spain are not considered to be a traditional product, but high profitability and high demand for this product in the past 10 years has caused the pistachio crop area to rise substantially in Spain.
The production of domestic pistachios is still low, but it is also expanding.
The Castile-La Mancha region has the highest increase in pistachios and production. The expansion of pistachio cultivation is a long-term investment that is expected to continue to increase.
Taking pistachios
Pistachio production within the EU does not cover domestic demand, so a significant amount of pistachios from Iran and the United States are imported into the European Union.
Pistachios are consumed in various forms in Europe, Use of dry in shell (with skin) as nuts to the consumption of pistachio kernel in the restaurants, cakes, sweets and other food industries and green pistachio powder and pistachio paste in ice cream.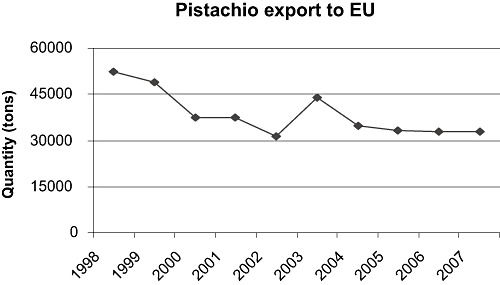 Pistachio trade
The European Union is one of the main importers of pistachios in the world. Iranian pistachio  and the United States pistachio  have the biggest share of  European pistachio market.
These two countries together have more than 90% of the total pistachio imports to Europe in their hand.
In the European Union market,  buy Iranian pistachio is the main rival of the United States.
Iranian pistachio flavor is still better than American pistachio, and this is the most important advantage of Iranian pistachios ( Table 2 ) .
Table 2

 EU-28 Imports of Pistachios by Origin in MT (In-shell Basis) Ton

Country of origin

MAY 2014/15

MAY 2015/16

MAY 2016/17

United States

51,993

38,714

49,846

Iran

16,539

18,069

17,923

Argentina

108

12

294

Turkey

93

83

117

Others

13,904

3,348

8,092

TOTAL IMPORTS

69,011

56,937

68,291
Exports of pistachios from the EU are very small. The main purposes of pistachio produced in the 28 EU countries in 2016 were the Mellá and Monte Carlo autonomous cities of Spain (Table 3).
                                                                                              Table 3
EU-28 Exports of Pistachios by Destination in MT (In-shell )
Country of origin

MAY 2014/15 

MAY 2015/16

MAY 2016/17

Melilla

78

203

134

Ceuta

16

84

153

Belarus

112

56

67

Serbia

72

59

49

Others

420

637

365

TOTAL EXPORTS

698

1,039

768
For buy Iranian pistachio contact us :
Whatsapp:+(98)9121820336
hivasales@iran-pistachios.com